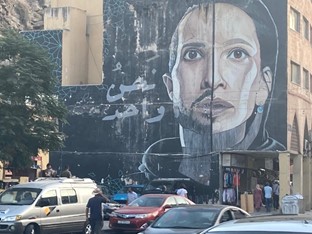 Gender-based violence (GBV) is prevalent across the Middle East and North Africa (MENA) region, and its prevalence is often exacerbated in times of conflict and displacement. The unprecedented COVID-19 pandemic has intensified this trend in the MENA region, including Jordan. Approximately one in four women have experienced some form of violence from someone within their home, including from fathers, husbands, and brothers. Sexual violence against men is increasing with 1 in 6 men having experienced sexual abuse or assault, whether in childhood or as adults .
For many refugees in Jordan, institutionalised discrimination in their country of origin has increased women's vulnerability to GBV during displacement by limiting their self-sufficiency and their ability to pursue education and employment opportunities. Syrian refugees have disclosed extremely high rates of GBV to humanitarian workers, and some female refugees report having to engage in forced sexual acts to ensure their survival needs. People living in certain areas, like East Amman and Zarqa, which are also classified as dense urban host communities, are more vulnerable to GBV due to harsh economic realities caused by high unemployment rates.
GIZ has asked the help of C4C to implement an EU funded project to strengthen the prevention and protection systems on gender-based violence (GBV) in Jordan. The main beneficiary of this project is the Family Protection and Juvenile Department (FPJD) and the supporting departments within the Public Security Directorate (PSD).
C4C will help to develop a gender-responsive plan to deal with unexpected events and disruption that threatens the ability of both police officers and social workers to respond to GBV related events. Activities will take place between September 2022 and July 2023. Within this period C4C will:
Conduct detailed assessments on the current situation.
Develop a handbook and / or training material for officers on GBV crisis management.
Provide a training for officers who have direct contact with victims and offenders.