Working with traditional culture
Culture4change is convinced that culture is a powerful force for change. C4C address violence, inequity, exclusion and collective trauma by tapping into local beliefs, cultural values, and honored traditions. On this page we are bringing together a selection of our approach.
C4C and Global Mental Health. An introduction to the C4C approach to mental health and psycho-social help
Culture, perception and politics
A presentation Willem van de Put on cultural aspects of mental health in crisis situations, and some reflections on developments in the politics of the 'Humanitarian World' – 28 September, Amman
When knowing your history becomes important: 1965-1990
Independent, but internally divided – and the quest for regional integration
When knowing your history becomes important: 1955-1965
Social revolution: the fight for, and consequences of independence.
When knowing your history becomes important: Rwanda 1916-1955
Colonization, religion and forced migrations.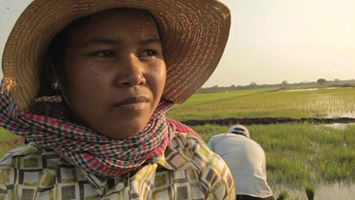 'Silent Land' is the latest film of Jan van den Berg and Willem van de Put. Willem van de Put of C4C worked with Jan van den Berg to include Cambodian cultural aspects in this story about the way Cambodian farmers have to get ready for the future.
Agricultural Industry, or traditional, small scale farming?
The struggle of Cheanneang
Married off against her will, Seng Channeang ran away on the day of the wedding. She travelled around the country and did many jobs. 'By hard work I learned to stand up for myself'. Coming back home to reunite with her family, she sees how the livelihood of neighbors is threatened. Large scale companies grab land and claim to bring prosperity, but people mostly are evicted, lose their income, and the region gets polluted. We follow Channeang on her search for security and a clear future path for her family, friends and community, for 4 dramatic years.
In these years she marries the love of her life, Bunsan, and starts a family. She works the land, becomes pregnant, and starts exploring how land grabbing works. She learns, and she starts organizing farmers to take action against landgrabbers. Her first daughter is named Reaksa: ' she who unites'.
Her antagonist is a symbol of entrepreneurship in Cambodia: business tycoon and senator Excellency Mong Reththy. In the 1980's little stood in the way of bold entrepreneurs. Functional legal systems were absent and official property titles non-existent. H.E. Mong Reththy built an empire in construction, public works and large scale agricultural industries. Nowadays his dream is to build a big city based on sound and sustainable ecological principles, where people thrive under benevolent but rigid leadership. When Cheanneang picks up all her courage and seeks direct advice from H.E. Mong Reththy, she asks him about the problems in her village, about their painstaking efforts to grow and export their quality rice. He advises her to give up trying to be an independent small scale farmer: those days are over. Cheanneang realizes that the struggle for land has more dimensions than only legal aspects. She has to find a middle way between large scale companies and old-style subsistence farming if she wants to build a future as an independent farmer in a globalizing world.
A film by Jan van den Berg, drsFILM, jan@drsfilm.tv , +31 6 218 26888   Willem van de Put, the Green Can Foundation, + 31 6 22898418   Prins Hendriklaan 63 3583 EE Utrecht, The Netherlands. Thanks to Jacob Gelt Dekker, Netherlands Film Fi=und, KRO-NCRV-Bodhi TV And many others.
Looking for justice in today's Cambodia. A Golden Calf at the Dutch Film Festival. The jury: "a moving story in which a Cambodian woman dares to confront the man whom she holds responsible for the death of her family. Convincingly and with respect the director has depicted this almost classic drama of good and evil, crime, punishment and forgiveness." A new DVD with extra's was produced within the framework of the Khmer Rouge Tribunal in Cambodia.
A film by Jan van den Berg and Willem van de Put.
Synopsis
The atrocities Sok Chea witnessed as a child during the rule of Pol Pot continue to haunt to this day, nearly thirty years later.
So she is shocked when she suddenly comes across the man who was in charge of her prison and whom she holds responsible for murdering most of her family.
Once again he holds a prominent position, this time as Deacon of Death or leader of cremation ceremonies. She decides to collect evidence against him. He must stand trial. But can she succeed in a country still ruled by fear. Besides which, Cambodians believe in karma and forgiveness.
Wrongdoers are punished after their death anyway and will suffer for many lives to come.
Sok Chea'ss quest leads her to a confrontation with Karoby, in the same pagoda where the atrocities occurred.
Mass fainting in garment factories in Cambodia
A cultural perspecive on a strange and ongoing phenomenon in Cambodia.
Community Systems Strengthening in Afghanistan : a way to reduce domestic violence and to reinforce women's agency
A culturally sensitive approach to domestic violence and women's agency in Afghanistan.
Mental Health programming in Afghanistan
Building mental health services in Afghanistan requires a combination of a health systems and cultural appropriate approach.
Bringing Order Out of Chaos: A Culturally Competent Approach to Managing the Problems of Refugees and Victims of Organized Violence
From the archives: the 9-step TPO-model developed for a community-oriented and culturally sensitive public health response to psychosocial problems - early 1990s!
Health Policies Network
The IHP Network, an initiative of the Institute of Tropical Medicine, Antwerp, aims to boost the influence of scholars from the South.
Ending violence
Site with news about what helps to end violence against women. Many links, blogs and updates.
Tribal analysis center
Collection and analysis of data related to tribes in remote areas generally beyond the current reach of social science researchers.